Instructor: Elena Mironova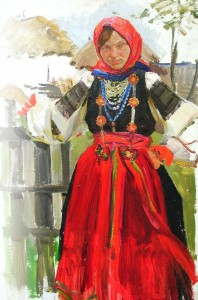 In this course people of all ages will get the opportunity to dance, play music and explore traditional Russian dancing culture in a modern, urban context. My house-of-dance-method is an example of how traditional choreography and music can be taught in a lose network.
In this course I will introduce different choreographies of Russian folk dances, such as "Khorovod", "Quadrille", "Lancy" or the traditional Russian improvised dance. You will get to know some entertaining folk games, which are closely linked to these dances. After the dance tutorial all participants are invited to join us for an open dance.
During the tutorial traditional Russian folk songs will be sung and Russian folk music will be played. The combination of singing and playing is a real enjoyment for all generations. Previous dance experience is not required.
Please register via phone +49 (0) 151 144 64 906 or email info@ensemble-lepota.de
RUSSIAN FOLK DANCES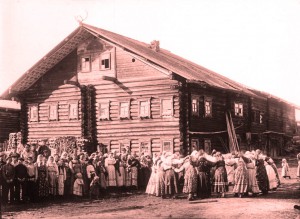 Khorowod
One of the oldest styles of Russian dance is the so called "Khorovod", a ronde dance joined by a group of participants and accompanied by the collective singing of all other participants. Khorovods have a centuries-old history. Today, different forms of ronde dance are known which had been established throughout the ages having different functions: the figure-ronde dance, the playful ronde dance and the simple ronde dance.
The ornament of the Russian Khorovod is extremely diverse. It can be danced in circles, half-circles, concentric or parallel circles, as well as in ,stars' and ,baskets'. Some of these ronde dances are performed in lines, such as the so-called "snake", "gate", "fence", "snail", and others which are performed in rows.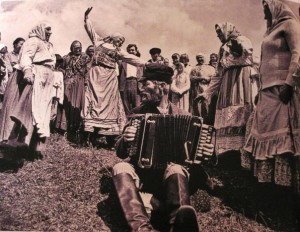 Plyaska – Russian dance improvisation
Another characteristic style of Russian dancing is the Russian dance improvisation. "Pylaski" contains passionate choreographic movements of one, two or more dancers which are accompanied by traditional instrumental music dating back to the age of the ancient Slavic tribes before Kievan Rus'. They are performed solo (man or woman), in pairs or by several dancers. In these dances the performer's individuality is strongly expressed. The "Pereplyas" is a competitive dance style, in which every performer successively seeks to outplay the other through his individual style, creativity and the best possible performance. These dances are full of humor and jest accompanied by "Chastushki" (folk couplets, quatrain).
Forms of dance
Originally, dances in Russia were borrowed from European cultures (France and England). Western dances were practiced by Russians at royal balls since the end of the 18th century. Later on, occidental royal dances were adapted by the peasants and matched with their traditional music and choreography. The first folk dances were versions of "Quadrilles" and "Lanciers" ("Quadrille à la cour"). The character of the adapted dances "Quadrille" and "Lancy" has radically changed since then. The steps of ballroom dancing were first pushed away by the movements of folk dances like "Kolena", "Vykhodki" and "Drobi". Much later on, in the 19th century, ballroom dancing became popular again, as "Polka", "Krakovyak" and "Padespan". In the folk tradition these dances were greatly modified and became typically Russian in their motion sequence and the music type they were accompanied by. Also, the names of these dances were changed to Russian folk song names like "Karapet", "The Girl Nadiya", and "Svetit mesyats".