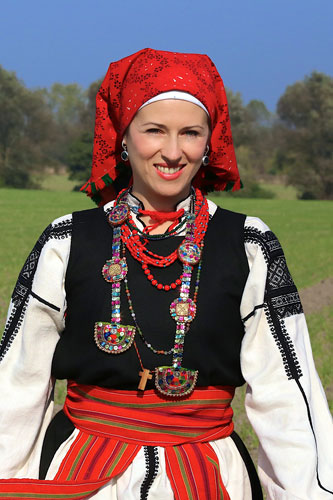 Instructor: Elena Mironova
Traditional song has carried the experiences, humor, character, and history of the Russian people through the centuries. We will experience the joy of hearing and singing traditional Russian songs. Participants will learn about the oral tradition of Russian folk singing by listening to some of the different regional styles found on the field research throughout Russia.
During the course you will learn the basic elements of Russian traditional singing: voice formation, breathing technics, improvisation in the folk tradition. Time permitting Elena will teach a Russian Songs of different genres: ritual calendar songs, dance tunes and lyric songs. Participants will use lyric sheets and learn the melodies by ear, no formal training necessary. You will have a chance to learn beautiful Russian folk songs in two and three part harmony with some advice on style and technique.
This cours provides an excellent foundation for absolute beginners, as well as for those who have had some basic vocal training but want to gain a knowledge of traditional Russian singing. Don't worry if you're a little nervous – this course focuses on singing as a group. And it doesn't matter if you don't get it right first time round; this course is about practising and enjoying singing! This cours are suitable for people interested in traditional Russian songs and for those, who wants to discover the abilities of the natural human voice.
Our course can be tailored to your time frame, age group and to the specific needs of the participants.
Please email info@ensemble-lepota.de for booking information and to discuss possible courses.